Home /
CAE Engineering Services
CAE Engineering Services
We'll understand your design's intent, and analyze it to make it better
We'll reduce cost, increase performance, and shorten development time by running various analyses, such as structural analysis, drop tests, and fluid analysis. If boundary conditions don't exist, they can be set and suggested from test specifications. We have extensive experience in providing high-quality mesh data and assembling an entire car. We also provide large-scale resources by collaborating with offshore members.
We Provide World-Class, One-Stop Analysis Service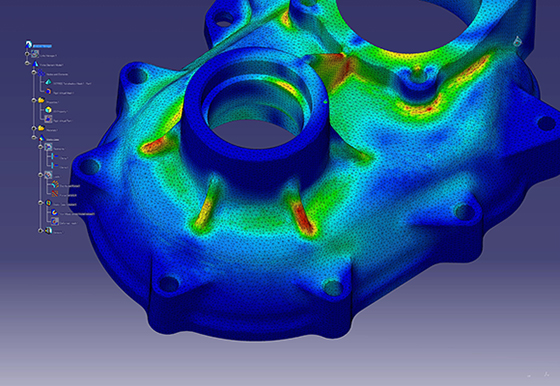 SOLIZE India Technologies Private Limited provides services for product design, NVH, stress endurance, impact, and fluid mechanics for automakers, leading suppliers, and aircraft makers in Japan, Europe, and US. By collaborating with Indian engineers, we are now able to support customers on a larger scale. Not only can we support customers in large volume CAE operations, but we can also continue to improve their analysis specs and related tools.
Projects
Automotive
NVH analysis of white body behavior when riding over a bump (ride comfort)
Flow of air conditioning, evaluation of temperature distribution
Flow of coolant within an engine, evaluation of temperature distribution
Creating mesh data for analysis
Aerospace
Structural analysis of aircraft parts, calculation of safety values for maximum stressed parts
Electrical Devices
Drop tests for mobile phones, remodeling based on analysis results
Healthcare Devices
Diagnostic equipment and structural analysis
Other
Cosmetic containers and structural analysis