PhiSim
The PhiSim Multi-Domain Compatible Model Library
SOLIZE, in partnership with SHERPA Engineering (France), provides PhiSim, a multi-domain plant modeling library.
PhiSim is a multi-domain compatible component library to extend MATLAB®/Simulink®
PhiSim can be used to develop control systems and system-level performance tests
PhiSim modes can run in real-time, and therefore can be used for MIL, SIL, and HIL
Simulink models can be created from requirement specifications and legacy C code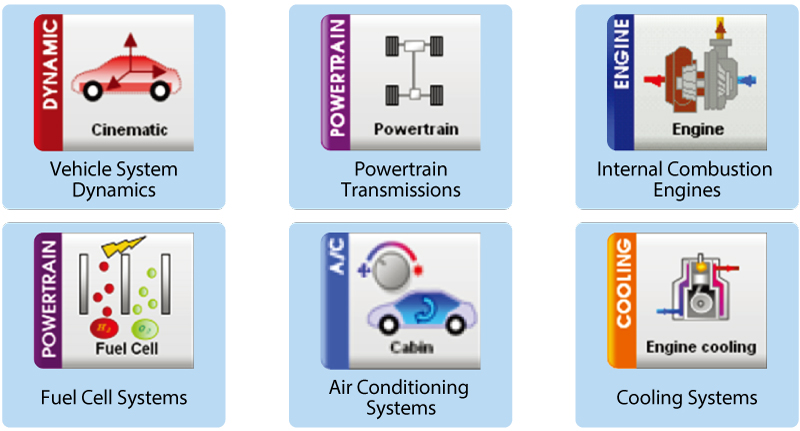 Components
PhiSim consists of two basic libraries and an application library. You can use them in the combination you prefer, by domain.
Basic Library: Libraries for four domains - mechanical, electrical, hydraulic, and thermal.
Thermal Fluid Library: Basic library for thermal fluid.
Application Library: Application-dedicated library.

Library
Modeling of Full Vehicles

Modeling of Full Vehicles
PhiSim is based on bond graph theory. In this theory, components connect to each other by exchanging quantities of physical mass, automatically adhering to the law of conservation of mass and energy. Energy is a physical quantity that is common to all domains, and its use allows the connection of different domains, enabling multi-domain physics modeling.
General and simple components are provided per domain. Large systems such as full vehicles can be modeled by connecting the components.
Runtime Environment
OS
Windows XP / Vista / 7
MATLAB
Verdion

For Windows 32-bit: MATLAB R2007b< and Visual C++ 2005 redistributable
For Windows 64-bit:

・For 32-bit MATLAB: MATLAB R2007b< and Visual C++ 2005 redistributable
・For 64-bit MATLAB: MATLAB R2011b< and Visual C++ 2010 redistributable

For all versions, Simulink is required
License type: node lock license and network license
For network license, only Windows Server is compatible

SHERPA Engineering is a company specialized in modeling, simulation, and control design. The company was established in 1997 and employs approximately 100 engineers. SHERPA Engineering has extensive project experience with numerous clients, such as French major automotive companies.