Home /
Automotive Sub Systems
Automotive Sub Systems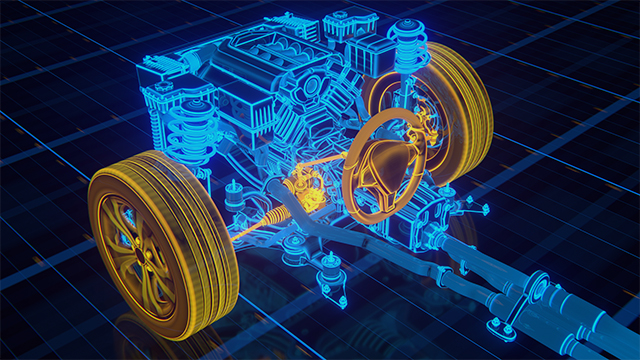 Exhaust Systems
SOLIZE executes projects on exhaust system for automotive vehicles, both passenger and commercial segment in CAD, CAE and CFD domains.
SOLIZE carries out 3D and 2D design of exhaust systems, for both hot end and cold end. Some of the components that are addressed are heat shields, cones, converters, mufflers, rod hanger, etc.
SOLIZE has also carried out projects for modifying the 3D design and corresponding 2D manufacturing drawings in a design cycle.
SOLIZE has comprehensive capabilities in Finite Element Modelling of Exhaust System for Passenger and Commercial Vehicles. SOLIZE has extensive experience of performing CAE simulation for different types of loading conditions like Static and Dynamic road load condition and engine vibrations.
Gas flow analysis through the complete system is carried out to determine Uniformity index and back pressure calculation. Skin heat-transfer coefficients are determined for structural analysis for thermal loads.
Sun Roof Systems
SOLIZE has provided extensive CAD support, both onsite and offshore to one of the major European suppliers in executing design activities, such as:
Initial concept design and development of sun roof assembly and its components like Glass Panels and Seals, sheet metal parts like Frame Complete, Assy Frame Reinforcement Front, Rear, Plastic parts, mechanism components, Rollo components, etc.
Design modification of Glass Panel Encapsulated, Laminated/Tempered bare glass panel, Seals and Sections, extruded parts like Guide Machined, plastic parts like Front Beam, Rear Beam, Inner Panel, Outer Panel, Rollo Cassette, mechanism parts like Control Slide, connecting rod, Inside and Outside Locator, considering the design for manufacturing feasibility.
Tool design and development for proto assemblies like Glass Panel Gluing, Modular Assy Frame Gluing, Inspection Jig and tools for testing and validation (Drop test for glass panel, Crash test for moving glass panel, Water management test).
Carried out conversion work from CATIA V4 to CATIA V5 for the parts like Tray, Frame, Handle, etc., according to the customer requirement.
Creating /Modifying/ Updating customer and internal drawings of sun roof parts and assemblies as per customer requirements and design standard respectively. Creating drawings for proto and production. Also created chartered drawings and exploded assembly drawings.