Home /
SOLIZE Products Launches Consulting Service with HP Japan to Manage Spare Parts Using HP 3D Printing Solutions
2019.07.06
Press Release
SOLIZE Products Launches Consulting Service with HP Japan to Manage Spare Parts Using HP 3D Printing Solutions
SOLIZE Products Corporation (headquartered in Yamato City, Kanagawa) which is a 100% subsidiary of the SOLIZE group (headquartered in Chiyoda-ku, Tokyo, CEO: Keiichi Shinohara), a global engineering partner in product development for manufacturers that provides 3D printed prototyping services and conducts sales of 3D printers, will launch a consulting service using HP 3D Printing Solution for the production and management of spare parts for automotive and consumer electronics manufacturers in collaboration with HP Japan (headquartered in Koto-ku, Tokyo, President: Takafumi Oka) starting in July.
Automotive and consumer electronics manufacturers are required to continue providing spare parts for product repair and replacement for a considerable period of time even after the termination of the product. For this reason, manufacturers store molds and inventory of supply parts that differ for each product and model in order to be prepared for customer orders. The management costs and maintenance man-hours for a vast amount of molds are one of the challenges facing the industry.
In collaboration with HP Japan, SOLIZE Products, which is deploying 3D printed prototyping services including data creation, material selection, proposals for manufacturing methods, quality control and engineering, will launch a consulting service using HP 3D Printing Solution which excels in build speed and parts quality. By using HP Jet Fusion 3D 4200 Printing Solutions to directly build the supply parts instead of conventional methods, we will be able to help customers significantly reduce the cost and burden on product manufacturers to manage and maintain the molds and dyes needed for product repairs and parts replacements.
Together with their customers, SOLIZE Products selects parts that can be rebuilt and replaced using 3D printing by HP Jet Fusion 3D 4200 Printing Solutions and verifies the 3D printed parts using optimal 3D printing design. With technical support from HP Japan, SOLIZE Products will verify final commercial parts for implementation in collaboration with customers. Finally, SOLIZE Products will offer customers the option of using their production service or purchasing the HP Jet Fusion 3D 4200 Printing Solution with operational support from SOLIZE.
Production example of spare parts using HP's 3D Printing Solution
In the case of a wheel center cap of an automobile, 480 parts can be built in 16 hours (excluding the post-treatment process) and high productivity can be achieved.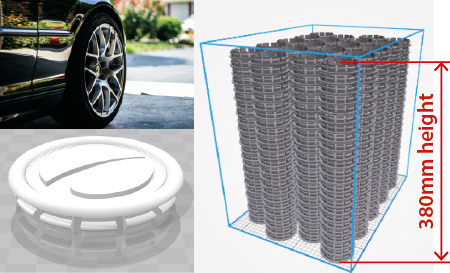 About the SOLIZE Group
SOLIZE group is engaged in wide-ranging product development for numerous industries with a primary focus on the automotive industry. Our services include on-site/off-site engineering services in the field of product design/analysis and model-based development (MBD), as well as 3D printer sales and prototyping services using 3D printers (DMP, SLA, SLS) with the largest capacity in Japan. In addition, SOLIZE group provides innovative engineering services which support and drive change and innovation to achieve customers' goals.
About SOLIZE Products
SOLIZE Products was the first in Japan to introduce 3D printers. For 28 years, it has been making full use of its expertise as service bureau by providing 3D printer sales and prototyping services via 3D printing. Currently, it holds 40 units of 3D printers, the largest capacity in Japan. In recent years, SOLIZE Products has also been focusing on metal additive manufacturing.