Our Vision & Mission
Our Vision
True evolution you can experience
Evolution: Breaking free from rules and restrictions to achieve true growth.
Though usually considered a natural phenomenon,we take evolution to be an intentional process brought about by a powerful vision.
Evolution is achieved by looking to the future and realizing one's full potential.
This joy of achievement becomes our driving force behind further progress.
We strive for becoming the engine of true evolution,Creating new values for our clients and the world.
Our Mission
Innovate value creation through the engineering of wisdom and technology
The wisdom and technology of the company and each of its people.
Systematically leveraging this potential is our speciality.
We dedicate ourselves to enabling innovation, allowing people and organizations to create value more than ever.
Realize "Truly Sophisticated Manufacturing"
With a public spirit that contributes to society and the global environment, we aim to harmonize manufacturing with human society and the global environment through the process of development, manufacturing, consumption, and return to nature, and to provide value to society.
We also contribute to the realization of a system in which people involved in production and consumption can feel happy as members of society and the natural environment.
Slogan / Statement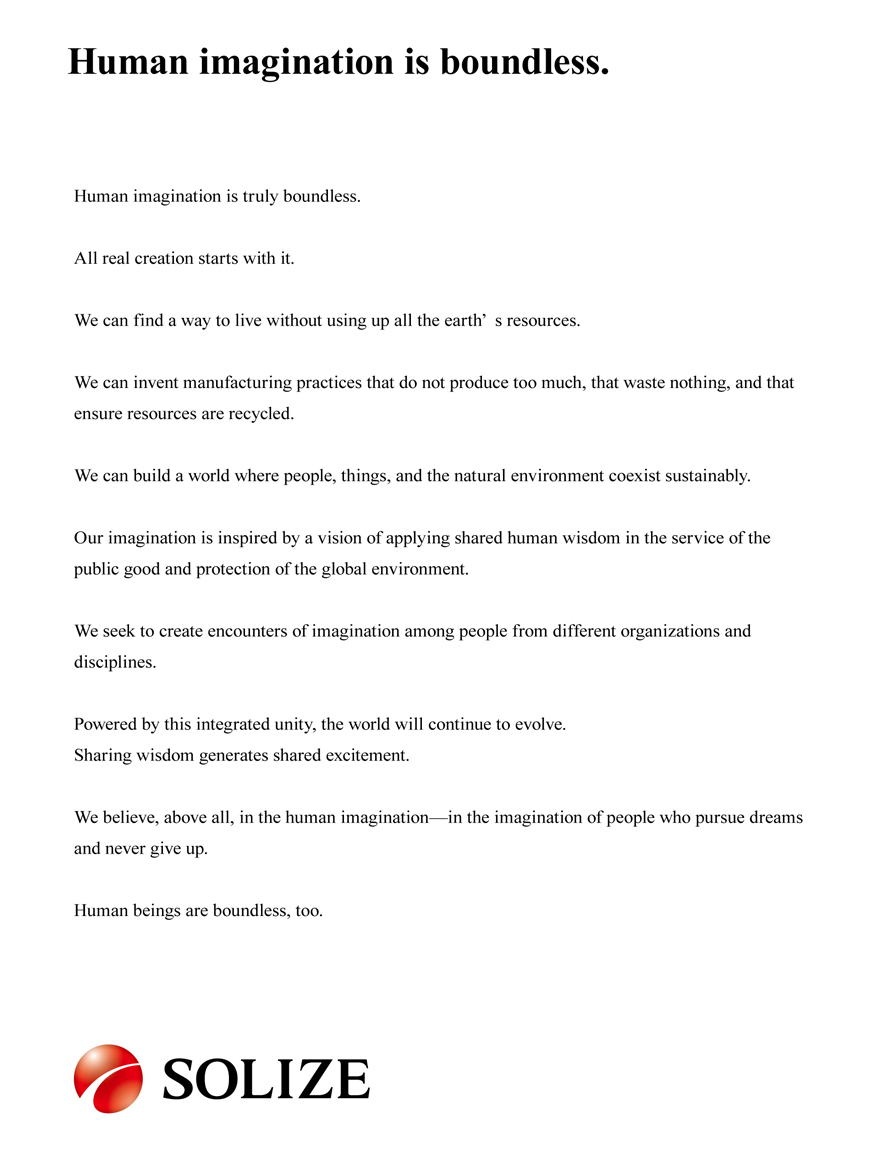 Company name / logo

SOL means "sun" in Latin. IZE means Realize.
It represents our commitment to grow with enthusiasm and energy like the sun.
The red in the logo represents this enthusiasm and energy while the sphere is a sign of our flexibility and the white line across the sphere represents the way toward our brilliant future.
Our Pledge
We shall:
Engage in business activities that are just, fair,, transparent, and sound, with an awareness of our obligations and responsibilities as a corporate enterprise which is a public entity
Not only comply with all applicable laws, regulations, contract terms, and in-house rules as a matter of course, but also take action with integrity and earnestness, in accordance with highest standards of ethics and morality
Strive to improve our corporate value while gaining and maintaining the trust of our customers, business partners, shareholders, employees, local communities, and other stakeholders
Respect local cultures and customs as a global company, and contribute to the sound advancement of local society through fair employment practices and the energies of our diverse human resources
Provide better environments and places for appealing experiences as a company involved in knowledge creation, and promote the growth and happiness of each and every one of our employees
Under this pledge, SOLIZE sets forth the SOLIZE Code of Conduct, which guides the way that the SOLIZE do business and that each one of us do our work in order to fulfill the company's social responsibilities.