Home /
SOLIZE India Technologies Private Limited awarded 'Top Performing Business Partner 2019 –Indo-Pacific' at MSC Software Kick-off Meeting
2020.02.19
Announcement
SOLIZE India Technologies Private Limited awarded 'Top Performing Business Partner 2019 –Indo-Pacific' at MSC Software Kick-off Meeting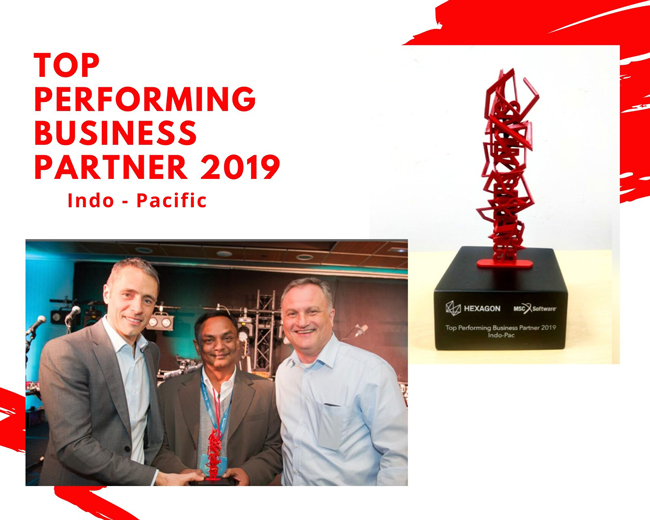 SOLIZE India participated in the MSC Software Global Sales Kick-off which was held in Madrid, Spain, from 20-22 January 2020. It was a successful event where majority of the MSC Global Sales team, BD Teams and Partners were present under one roof. Over 450 members from Hexagon | MSC Software teams and partner teams attended the event.
The event also featured a mini Regional Kick-off for the Indian market to focus on regional business priorities. As a part of the recognitions and awards, SOLIZE India Technologies Private Limited was awarded the 'Top Performing Business Partner 2019 – Indo-Pacific'. Strategic alignments, achievement of revenue goals and high quality technical support were some of the criteria taken into consideration for the award.
Mahadevan.V.S, CEO & Director of SOLIZE India said, "We are honoured to receive this award. This recognition is an acknowledgment of the efforts and performance by our team for deploying solutions around MSC technologies which address our customers' technological and business goals. SOLIZE India has been a technology partner for MSC Software in India since 1999 and successfully worked with several customers in the Automotive, Aerospace, Industrial Equipment and new emerging market segments. We are committed to build on our success for our valued partner MSC Software."
Sridhar Dharmarajan, Executive Vice President & Managing Director-Hexagon Manufacturing Intelligence, India and MSC Software, Indo-Pacific, said that "SOLIZE India has been our reliable, long-standing and largest business partner in India and through this award we are happy to recognize SOLIZE India's contribution towards growing the MSC business and reaching out to new market segments and application areas in the Indian market."
The Kick-off event had keynote sessions by leaders from different Industries, articulating the Hexagon | MSC Software story and spoke about the various technologies showcased in the Hexagon portfolio such as Metrology, Product Development, Manufacturing Solution, and Composites.
The partner team members got an opportunity to meet Mr. Norbert Hanke, Chief Operating Officer, Hexagon AB and Mr. Paolo Guglielmini, President, Hexagon Manufacturing Intelligence Division, and CEO, MSC Software besides getting a chance to interact with other teams within Hexagon | MSC from around the world.
The Kick-Off started with a motivational session by Mr. Bertrand Piccard, Swiss psychiatrist and explorer, sharing his experiences, which was highly appreciated by the audience. Mr. Omar Abbosh from Accenture spoke about "Digital Transformation and Innovative Business Models" while Mr. Alex Dubov spoke about "Future Forecast from Industry Leaders." There was also a dedicated Sales Training session (Force Sales Training) conducted at the event.