3D Printing
Engineering Services
Home /
3D Printing End-Use Parts
3D Printing End-Use Parts
Seamless support from choosing the right parts through manufacturing
3D printing end-use parts is growing increasingly common in major countries around the world across various fields such as automobile parts, industrial machinery, healthcare products and consumer goods, etc.
At SOLIZE, we utilize our 3D Printing expertise, accumulated through consistent involvement in the industry since our founding in 1990, together with the latest HP Jet Fusion 3D technology. We support our customers from helping them with selecting the right parts to providing them with end-use parts.
The HP Jet Fusion 3D Printer achieves identical construction methods and materials for prototyping and mass production alike. This dramatically shortens production cycles while also reducing initial costs thanks to eliminating the need for molds.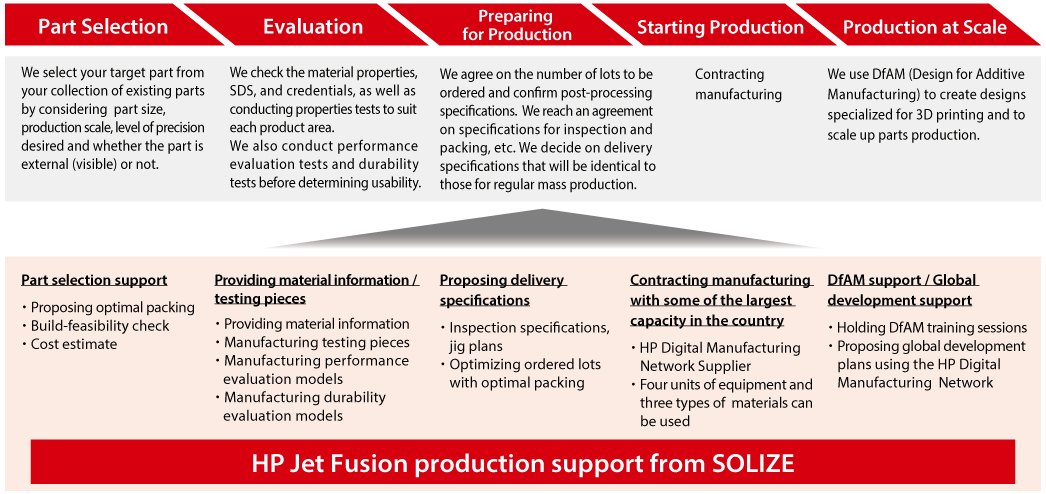 As recognized for our 3D printing technology and quality control system cultivated over 30 years since our foundation, we have been qualified by HP as the only HP Digital Manufacturing Network Partner in Japan.
Equipment Used
Materials Used
In addition to our current PA12 and PA12GB (glass beads) materials, we plan to offer a wide range of thermoplastics such as PA11, fire-retardant materials and elastomers, etc. With best-in-class isotropy, quality parts for production use can be created.
| Material | Characteristics |
| --- | --- |
| PA11 | Can be used to produce highly ductile, flexible and high-quality parts |
| PA12 | Can be used to produce strong, low-cost and high-quality parts |
| PA12GB | Can be used to produce rigid, low-cost and high-quality parts |
3D Printing Spare Parts Consulting Service
Amidst concerns regarding the long-term burden of spare part mold management and maintenance in following with revisions to both the Subcontract Act and the promotion standards in the Small and Medium-sized Enterprise Basic Act, our entire manufacturing operation is working rapidly to achieve mold-less spare part production and 3D printing of spare parts.
SOLIZE uses our 3D printing expertise to provide consulting services from selecting supply parts to their implementation.