3D CAD Engineering Services
Home /
Features of SOLIZE
Meeting the Future's Needs Through Superior 3D CAD Engineering
SOLIZE holds expertise in design and analysis techniques using 3D CAD cultivated since our founding in 1990, as an early adopter who focused on its revolutionary impact on automotive design and analysis. This technical capital and experience lets each one of our engineers make proposals at a higher level. SOLIZE addresses the needs of the future with its base of historically-honed, proven 3D CAD techniques.
The Technical Refinement of a 3D CAD Pioneer
3D CAD is not simply a tool. It also serves as a communication method linking roles from product development and design to prototyping, production plants, suppliers, sales, and even services. It is the most critical tool used in product development.
SOLIZE has a wealth of project experience in a wide range of sectors, as well as technical skill in design and analysis, honed over our years as a 3D CAD pioneer. Furthermore, each individual engineer at SOLIZE inherits a legacy of technical expertise, and works to further polish this endowment.
At SOLIZE, in order to train our engineers and produce experts in 3D CAD design and analysis, we conduct thorough education in 3D modeling. After completing advanced training, our engineers engage in countless product development projects at development sites for customers such as automotive industry vehicle and component manufacturers. This has allowed us to cultivate numerous journeyman and veteran engineers with over a decade of product development experience and familiarity with both parties' technologies, forming an organization that contributes to customer development projects.
SOLIZE has surged to the forefront of 3D modeling promotion and adoption consulting services, and is now accelerating its growth in comprehensive contracted development with a core team of journeyman and veteran expert engineers.
Developing Robots with Automotive Design Technology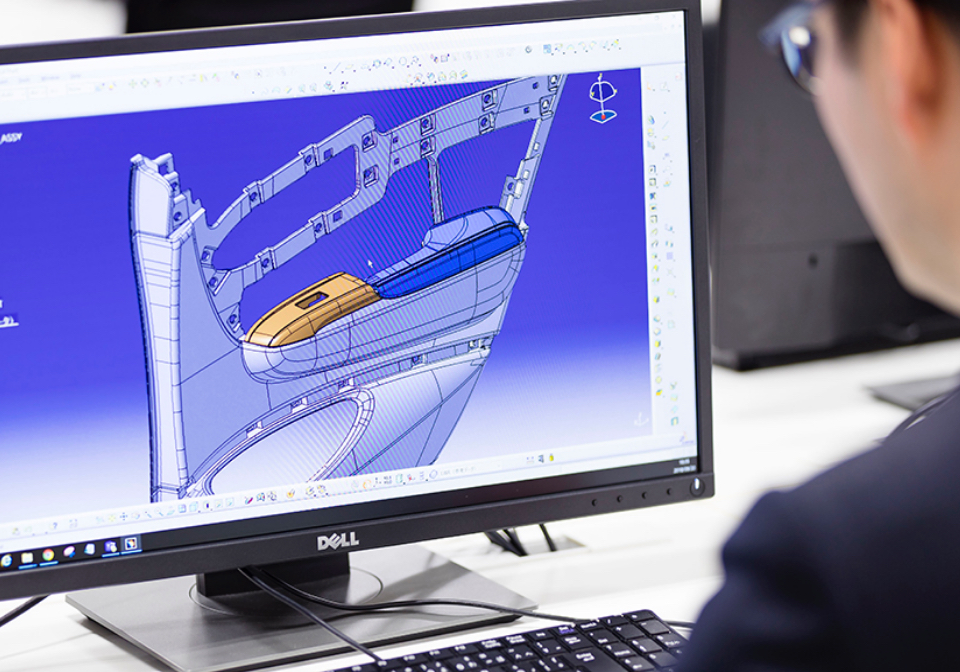 SOLIZE also conducts contracted development. The mechanical design sector is one pillar of our contracted development business, and allows us to utilize the techniques we have cultivated through automotive product development.

For example, we have developed a robot that automatically, rapidly, and reliably extrudes the medicine prescribed to a patient from a storage rack. Our automotive experience aids us in creating designs that maximize usability, reliable structures, and even component designs that account for productivity and distribution. We are also considering potential future applications for these technologies in unmanned convenience stores, as well as other automated facilities.

We have also handled exterior design in the production of hospice care robots. The design has a friendly look intended to exist in harmony with humans, based on the Three Laws of Robotics. Additionally, we have arranged a minimum layout in order to showcase it smoothly, considering its operating range.
This is useful because robots incorporate a very broad range of components, such as an internal chassis, motors, batteries, circuit boards, harnesses, and more. Ultimately, we assimilated a design using CAE for strength and rigidity before finally moving to production. Even on this point, our automotive interior design experience and techniques proved useful.
Automotive Interiors Call For Knowledge and Design Sense Alongside Technology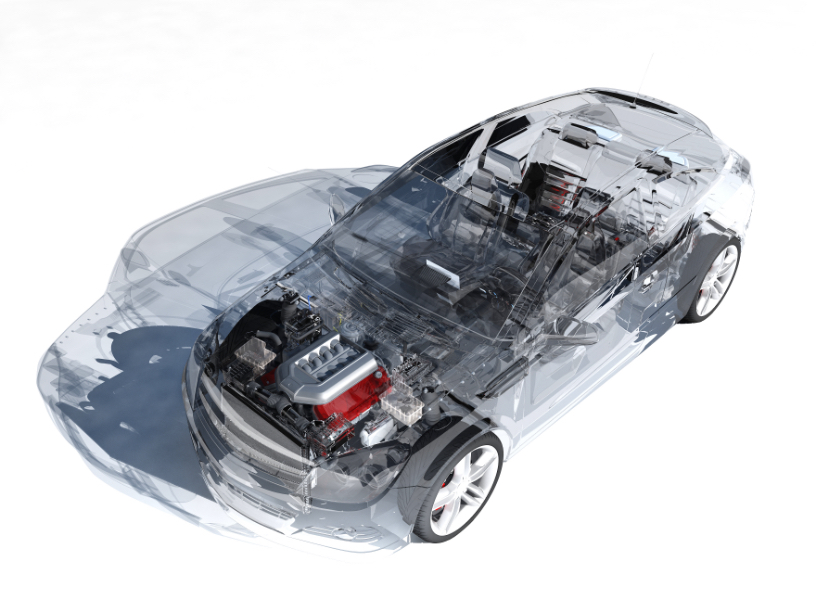 Comprehensive contracting of interiors of automotive design and analysis is another pillar of our contracted development business. In designing roof and interior technologies, we prepare and understand proprietary SOLIZE design standard manual which incorporate laws, development standards, component structures, manufacturing or production methods, new technologies, CAE, and failures. We then seek designs that satisfy customer requirements.

Design sense and knowledge are just as vital in roof and interior design as 3D CAD technology. The spatial sense to envision how parts move, and what other parts they wear on. The knowledge of heat and noise required for a pleasant car interior. Expertise on the properties of materials used for components. These are the sorts of knowledge SOLIZE has accumulated and refined over its many years of using 3D CAD technologies.
We believe that automotive roof and interior design needs will remain static even as automobile drives shift from internal combustion to EV systems in the near future. After all, for our customers, the roof and interior are points of differentiation that final consumers use in selection. The platform, roof, and interior are the three primary automotive modules, and a sense of luxury in the design of the roof and interior adds value to the areas the driver and passengers experience most intimately. Particularly given the rise of EV startups in emerging nations, further growth is predicted.
Advanced Engineering for the Future of Automobiles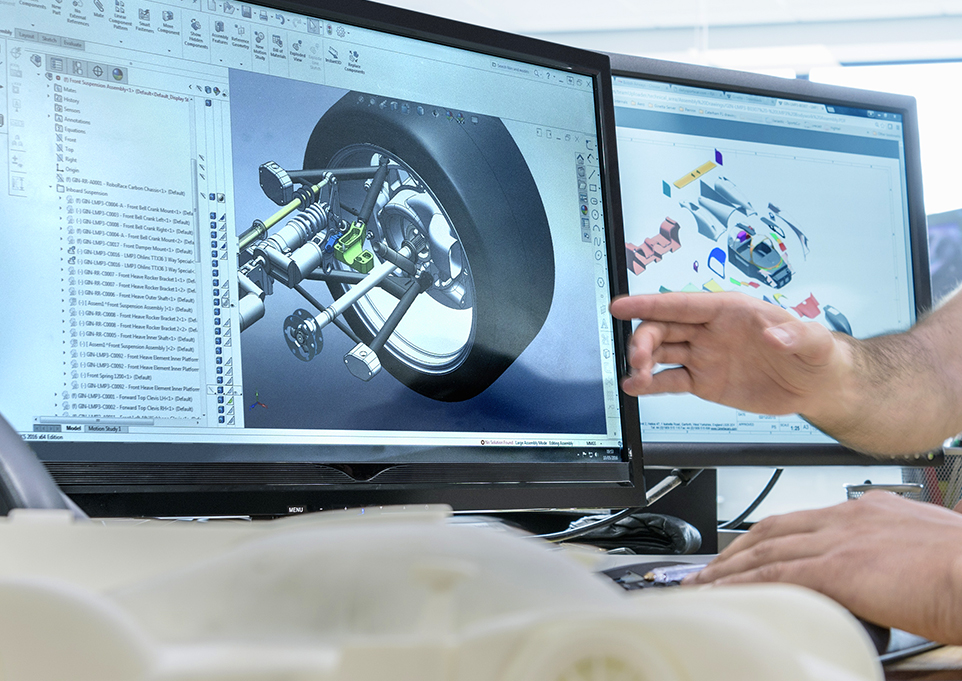 With an eye to the future, the conversion of automobiles to EVs is inevitable with the turn of the era. Assuming that fuel efficiency will be a future focal point, weight reductions are one technical element that will see major demand. And as automobile interiors fall silent with this change, increased comfort will also be on the rise. From a perspective that considers large battery loads and passenger protection, it also seems critical to consider impact requirements.

Our mission at SOLIZE is to reduce the weight of non-battery components in order to ensure adequate travel distances with onboard energy reserves. We are engaged in development toward this end, which include material replacements.
Further reductions to development lead times will also be required in the automotive industry of the future, in order to respond to both the diversifying needs under the CASE banner and the rise of associated emerging nation manufacturers. Faced with this trend, SOLIZE is accelerating its digital twin techniques which fuse real and virtual approaches and its common design for components using 3D modeling. Automotive needs are shifting with technological progress. To address these ever-changing demands, SOLIZE will continue to tirelessly drive the industry forward with new advancements. SOLIZE will keep evolving with an eye on future requirements, in order to provide our customers with high-level proposals, ample added value, and high-quality services as an engineering partner.
Although Japan is in a vicious spiral with an aging population and rapidly-falling birth rate, a resolution to this issue could provide the nation with a chance for further growth. In the future, nations across all of Asia and the world will follow Japan down this route to an aging society. SOLIZE has made the first move to attempt to resolve this issue, and when the time comes, we aim to remain a global engineering partner capable of providing effective solution for things people want to do all around the world. Toward that end, we will keep our eyes on a brighter future, and continue our pursuit of new technology.